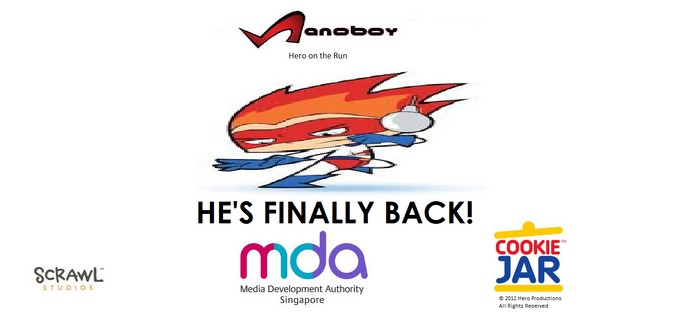 Nanoboy: Hero on the Run is a Canadian television movie produced by Agogo Entertainment, Scrawl Studios, and MDA and is distributed by Cookie Jar Entetainment. This film is based on the Candian TV series, Nanoboy and will air on the 11th August at 8/7c on Teletoon and Cartoon Network and it will be on DVD & Blu-Ray on the next day.
Plot
---
Oscar Stein (Scott McCord) is graduating from high school since he's turning 18 years old this summer. He thinks it's time that he could give up his powers and send them to the next Nanoboy. But the prophecy says he will keep the powers till the end of time. Then, an evil monster wants to destroy Nanoboy. It's up to him and the crew to stop the monster in this 190-minute film.
Background
---
Scrawl Studios and Agogo Entertainment, the producer of the TV series, first announced a plan of a feature-length television movie of Nanoboy in September 10, 2009. They said that it'll be released on April 14, 2010. But since the two companies had plans for something else way before planning a Nanoboy movie, they pushed it to June 29, 2011. But people said that would be very early if it happened. So they pushed it to July 24, 2012. But that was still early. So the final release date was August 11, 2012 for it to be on Teletoon and on the next day on DVD and Blu-Ray with a short film and a behind-the-scenes footage.